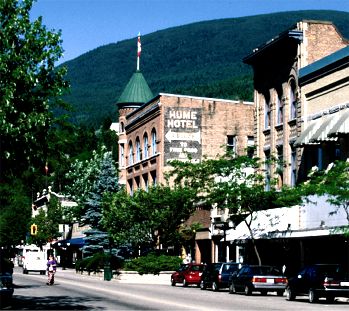 Nestled between the water and forested hillsides, Nelson B.C. is situated on the shore of Kootenay Lake's West Arm. These waters form the beginnings of the Kootenay River, a waterway traveling into and becoming part of the Columbia River.
Located 10 kilometers north of Whitewater Ski & Winter Resort, Nelson is a city on the move with a population of 9,500 – the largest town on the B.C. side of the Selkirk Loop. Nelson boasts a new multi-purpose arena, a renovated Aquatic Centre, plus a museum, archives and art gallery located in Nelson's historic City Hall building which complements the beautifully restored Capitol Theatre.
The city of Nelson is considered the "Heritage Capital of the Kootenays," and turn-of-the-century ambiance lingers around every corner of Nelson's 350 preserved heritage buildings. Soak up Nelson's period charms, including pristine heritage homes, manicured gardens and tree-lined streets, by taking one of the guided Heritage Walking Tours, or take a self-guided driving tour – both are a great way to revisit the architectural treasures from the city's heyday. A short distance northeast of Nelson watch for Blaylock Mansion. It was built in the 1930s style of the stately Banff Springs Hotel for the Consolidated Mining and Smelting Company's chief executive (completing the hillside terraces and gardens took 10 years alone!). After a varied history, this 16,000-square-foot mansion is fully restored and open to the public.
"Well worth the drive and stay in Nelson." -G. Miller, North Bend, WA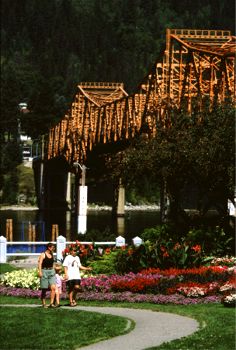 Nelson is the #1 small arts town in Canada and in the top 5 in North America. It is truly a creative center for artists and culture, where visitors will find an incredible selection of items produced by local artisans. Nelson events include Artwalk, a visual and multi-media art extravaganza which showcases an eclectic group of artists and craftspeople in a variety of venues – all within easy walking distance of each other. The Capitol Theatre presents live performances, music, theatre and dance almost 365 days a year.
Outdoor enthusiasts will find a wealth of sporting and outdoor adventure opportunities in the area, no matter your skill level. Try canoeing, kayaking, rowing, wake boarding, tubing or water skiing on the waters of Kootenay Lake in the summer months. And if you're ready to land that big one, Kootenay Lake and numerous streams and lakes in the area provide excellent fishing opportunities.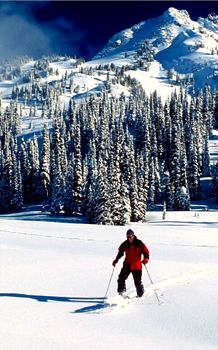 Nelson is a world-renowned destination for mountain biking with some of its most challenging trails found just minutes from downtown. Opportunities for walking and hiking are as vast as the surrounding mountainscapes, with Valhalla and Kokanee Glacier Provincial Parks providing near-endless trails traversing around lakes and natural hot springs while meandering through woods and alpine meadows. For a unique adventure, try a tour with High Terrain Helicopters for a picnic on nearby Kokanee Glacier.
Nearby Whitewater Ski & Winter Resort offers record snowfall of famous champagne powder and world-class skiing and snowboarding that's sure to please. For cross-country enthusiasts, Apex / Busk Nordic Ski Area has 25 kilometers of groomed trails traversing woodland and plains to satisfy your love of touring. Snowmobilers will also find hundreds of miles of logging roads offering virtually endless terrain to explore. If golfing is your game, Nelson's Granite Point Golf Club is just minutes from downtown. This 18-hole course will test your ability, while at the same time offering spectacular scenery. Seven more outstanding courses lie within a one-hour drive of Nelson.
Shoppers love the Bohemian flavour of Historic Baker Street, which has character galore and offers an incredibly diverse selection of gift shops and boutiques. Situated along the waterway, a visit to the Chahko Mika shopping mall provides all the items you'll need to continue your trip. And go for a stroll along the waterfront pathway, or travel back in time with a ride on the fully restored electric Streetcar #23.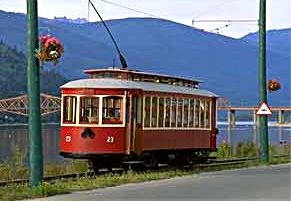 Nelson's knowledgeable outfitters and guides can help to get you out enjoying the water. Whether you are a novice or a seasoned pro in your water sport, you will find the facilities and support to get you in, on or under the water. Drop in to the Chamber of Commerce and speak to a tourism representative – they'll get you pointed in the right direction. While there, you can learn more about Nelson's accommodations, pick up a B.C. map and learn about nearby National Parks.
West of Nelson on Highway 3A you can take the Loop's Rivers, Dams and Mines Super Side Trip. A fun day of exploring in the towns of Castlegar, Trail and Rossland are worth the drive. The airport in Castlegar is the closest International Airport on the west side of the Kootenays. To the northwest lies a journey through the past in the North Kootenay Lake & Silvery Slocan Super Side Trip.
Come to relax, or come to explore. Nelson's incredibly diverse and picturesque four-season playground awaits you!