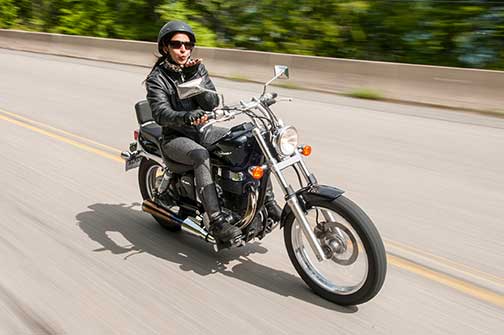 Motorcyclists rejoyce at the light traffic, two lane curves, sweepers and esses that makes up the International Selkirk Loop riding experience. In fact Destination Highways Motorcycle Guide Book rated a portion of this route as it's # 1 riding experience in British Columbia.
If you have the time, incorporate a Super Side Trip into each days ride (there are 6 to include) which in most cases will provide you with about a 200-mile day of blissful riding. The International Selkirk Loop has enough roadway for 3-4 days of touring.
We have designed specific itineraries for the motorcycle enthusiast taking in the best sections of roadways and highlighting the best attractions along these routes.
A sample itinerary from Calgary, AB is for 4 days / 5 nights averaging 345 km / 207 mi daily.
Another sample itinerary from Spokane, WA is for 4 days / 4 nights averaging 177 mi / 383 km daily.
READ THE RECENT RAVES IN THE BIKER PRESS
In Women Riders Now Genevieve Schmitt wrote a nice online article "Touring the Selkirk Loop: The Ultimate Motorcycling Girlfriend Getaway" in a March 22, 2010 edition. Her story has excellent photos, and a blog post at the end. Read here.
"Truly one of the most memorable and exciting experiences I've had in motorcycling. I have ridden most of North America and this one rates with the best. Enjoy!"-Billy The Biker
Here is what Destination Highways has to say about Hwy 3A from Creston to the Kootenay Bay Ferry in BC (a 78.3 km / 48.5 mi ride that scored a 15 out of 15):
"In our humble opinion, this is the best motorcycle road in southern B.C. Even if you're a glutton for twistiness, DH1 will test your appetite for turns. After beginning with a light starter up the east side of the fertile Creston Valley, the Ministry of Highway's head chef serves up a never-ending feast of curves, sweepers and esses along the shores of Duck and Kootenay Lakes.
If you have a choice, put away your Fat Boy and unsheath the ZX9R. But whatever your dry weight, come prepared to overindulge. Beautiful water and mountain scenery are almost always in view, traffic is light and development consists of the occasional pub or other service. The only thing not perfect about this DH is the pavement, but in B.C., no doubt you've ridden far worse. Take it from us, you won't find a better riding experience anywhere in the province. Okay, so maybe our opinion's not so humble after all."