Please Note: The International border is OPEN.  Canada has announced the removal of all COVID-19 entry restrictions, as well as testing, quarantine, and isolation requirements for anyone entering Canada effective October 1, 2022. Refer back to this page often and refer to links below with border crossings updates.

ENTERING CANADA
Individuals entering Canada: American citizens need ID that proves two things: Citizenship and identity by way of a photo. Passports will be required as of June 1, 2009 to reenter the US. The following pieces of identification will serve as satisfactory proof of American citizenship to enter Canada: US Passport, or Birth Certificate (photocopies must be notarized), or certificate of naturalization or citizenship AND photo ID such as a drivers license. There are alcohol and firearms restrictions. Click here for more Canada Customs Info
Food Restrictions: Fruit – Apples, Pears, Peaches, Plums, Apricots, Nectarines. Vegetables – Corn on the Cob, potatoes (acceptable only in sealed US inspected bag). Meat: No restrictions.
Returning to Canada w/Purchases/Goods/Gifts: Individuals returning to Canada after 24-hours can claim up to $200 CDN worth of goods without duty; $800 after 48 hrs. After a 7-day absence, you are allowed to include goods that will follow you by mail or other delivery method.
ENTERING UNITED STATES
Individuals entering US: As of June 1, 2009 only Passports or WHTI-compliant documents will be acceptable for entering the United States. WHTI-compliant documents are: US Passport Card, Enhanced Drivers License, NEXUS Card, or FAST Card. Prior to June 1, 2009 a photo ID plus Birth Certificate are accepted.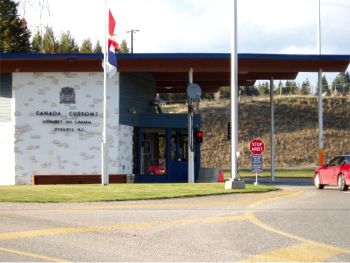 US Customs Info: www.cbp.gov or www.passportinfo.com Returning to US w/Purchases/Goods/Gifts: Individuals returning to US in a 30-day period may bring $800/person of approved items and 1-litre (33.8 fl. oz) alcohol per person without paying duty. Locally grown fruit from Creston, BC allowed. To learn what items are restricted go to www.cbp.gov Minors traveling with people who are not their parents: (applies for Canada & US entries): Must have written authorization from parents along with phone numbers and ID such as notarized copy of birth certificate. As of June 1, 2009 US & Canadian citizens under the age of 16 need only present a birth certificate, Canadian Citizenship Card, or a naturalization certificate. Birth certificates can be an original, photocopy, or certified copy.
Traveling with pets: Dog & Cat owners may generally travel with healthy pets with current rabies vaccination certificate within the past 36 months.
For more general information: See the Go Northwest Border Information site.
For the final word check out the official Canada Border Services Agency and US Border & Customs Protection websites.
If you have specific concerns please call one the border station numbers listed below:
Border Crossing Stations on the Loop
State / Province
Crossing
Route
Telephone#
Opens
Closes
To
Washington Crossings
Frontier
Hwy 25 N
(509) 732-6215
Open 24 hours
Paterson
Metaline
Hwy 31
(509) 446-4421
8:00 am
4:00 pm
Nelway
Idaho Crossings
Eastport
Hwy 95 N
(208) 267-3966
Open 24 hours
Kingsgate
Porthill
Hwy 1 N
(208) 267-5309
7:00 am
7:00 pm
Rykerts
British Columbia Crossings
Kingsgate
Hwy 95
(250) 424-5391
Open 24 hours
Eastport
Nelway
Hwy 6
(250) 357-9940
8:00 am
8:00 pm
Metaline
Paterson
Hwy 22
(250) 362-7341
Open 24 hours
Frontier
Rykerts
Hwy 21
(250) 428-2575
7:00 am
11:00 pm
Porthill