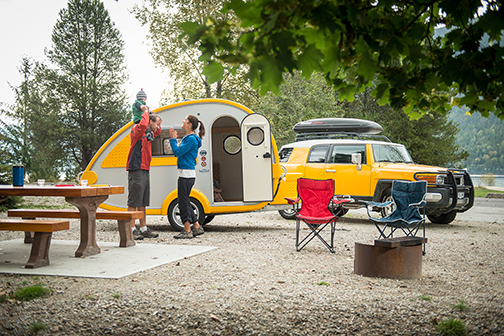 Camping along the International Selkirk Loop comes in all varieties. You will experience a vast outdoor playground sprinkled with small communities. Whether driving, cycling, or motorcycling the International Selkirk Loop, public campgrounds and Provincial Parks are readily accessible and offer a different camping experience.
There are a large collection of camping choices which include 11 Provincial Parks in British Columbia, 3 Idaho State Parks with 6 campgrounds, 4 US Army Corps of Engineers campgrounds, 28 US Forest Service campgrounds and 3 boat-in/hike in camping areas. Click here for a complete list of these public lands campgrounds, complete with reservation and facility information. For more civilized camping you will find dozens of private, full service campgrounds conveniently located to shopping and ammenities. Click here to learn more about available privately owned campgrounds.
If you have any questions about identifying a location for a public lands campground please do not hesitate to call our toll free number 1-888-823-2626. We will be happy to answer any of your questions.