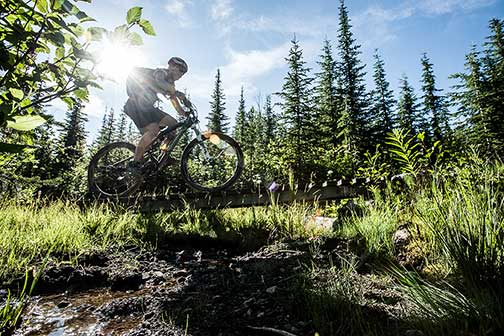 If mountain biking is your thing, you just might think you have hit the jackpot on the International Selkirk Loop. We will mention a few of the trails below to wet your whistle, however, there are plenty more to keep you busy for a very long time. Whether you're a beginner or expert, you'll find a trail with just enough challenge and excitement to suit you.
The Colville National Forest in Washington has over 30 designated mountain bike trails within the Selkirk Loop region including the Little Pend Oreille-Flowery Trail Super Side Trip. You can find trail maps and directions in the visitor centers and forest service offices in the area.
For the fat tire single-track enthusiast, there will be no lack of trails to challenge and reward you. One of the areas to note is north of Sandpoint, Idaho. Schweitzer Mountain Resort and the adjacent Selkirk Recreation District have a terrific – and growing – 30-trail system for mountain bikers and hikers. In the summer, you can hop the ski lift and never hit all the trails in a week. Also note their family friendly 6.5 mile mellow downhill trail. This trail is great for introductory downhill riders, families, and anyone looking for a fun easy ride from the top of the quad to the village. In the community of Sandpoint there are paved bike paths south and west of downtown, enjoyable for biking and walking.
One of Sandpoint's most popular trails, Gold Hill lies just east of Contest Point on Bottle Bay Road, south of Sandpoint. All of the items that are hazards (switchbacks, berry vines, punji stumps) also make this one of the finest, most pure mountain bike trails. The difficulty is sustained and technical, but not impossible. It's a real climb, but never a grunt, and it's predominately single track, almost completely in the forest. This is a ride to work at and to perfect, for most. It can also be connected to larger loops coming down Forest Road 2642 through Garfield or Green Bay. The trail has 8.4 miles of single track and 3.4 miles forest road.
Just two miles from downtown Sandpoint, the Kaniksu Land Trust provides a fine trail system in the new 180-acre Pine Street Woods, just adjacent to the existing Syringa trails, which together have more than 20 named rides.
There are miles of fat tire cycling trails along the shoreline at Priest Lake, including to Upper Priest Lake for single track enjoyment. You can get permission to leave your car at Elkin's Resort then go north toward Beaver Creek. The shoreline trailhead is 8 miles of beautiful single track one way. When in doubt, go right (opposite coming south). It's faster to come back on single track than road. Bring your camera – views are awesome, and plan to take a dip at one of the secluded beaches along the way.
The Farragut State Park, found at the southern end of Lake Pend Oreille on the International Selkirk Loop's South Lakes Super Side trip, trail map shows 32 miles of marked single track. Some of the single track runs along the shore of Lake Pend Oreille. You may pick up this map at the park entrance. Also consider Empire Trails in Spirit Lake where you will find an amazing 8 miles of single track along Spirit Lake.
There are more rides around Bonners Ferry being built by the 9B Trails volunteer group. See rides and maps at 9B Trails website.
Another area of note is Rossland, BC, located on the International Selkirk Loop's Rivers, Dams and Mines Super Side Trip. The Rossland Range consists of a labyrinth of extensive trails with up to four thousand feet of vertical. Trails of note in the area are the Seven Summits Trail, a continuous trail distinguished with an "Epic" rating from the International Mountain Biking Association, 30.4km in length following a high elevation route along the interconnecting alpine ridges west of Rossland past the peaks of the Rossland Range. Rossland has 40 defined trails that are described by clicking here.
The Kettle Valley Rail Trail is one of the areas longest and best known rail trails and can be accessed near Castlegar, BC, and is 277 miles / 455 km in total length. The trail slowly climbs up into the mountains offering terrific views of the Lower Arrow Lake. The 50 km / 30 mile ride to Christina Lake can be accomplished in a day on a mountain bike. Along the way, you'll encounter trestles and tunnels. Lights are definitely required.
The Nelson BC area is also laced with excellent opportunities for off road cycling. Your best source for local knowledge is the local cycling shops. The Great Northern Rail Trail, also known as the Salmo-Troupe Trail, covers approximately 29 miles / 48 kilometres between Salmo, BC, and Nelson, BC. Nelson is also home to the Fat Tire Festival held every summer. Check the calendar of events for dates.
North of Nelson, BC along Hwy 6, called the International Selkirk Loop's "North Kootenay Lake – Silvery Slocan Super Side Trip" adjacent to Hwy 6 is another noteworthy rail trail called the Slocan Valley Rail Trail. For a much shorter, 13 km / 8 mile family ride in the Silvery Slocan, pick up the Galena Trail at the intersection of Highway 31A and the road to Sandon. Where the trail crosses Carpenter Creek, hang your bike on the cable car and pull yourself across the water. The trail ends on the shore of Slocan Lake at Rosebery. There are more rail trails east of New Denver to the Sandon Ghost Town called the K&S Rail Grade Trail.
Mountain biking enthusiasts find Kaslo's 49 km of single track and 41 km of back roads right from town are what mountain biking is all about. With beautiful Kootenay Lake as the backdrop, take an epic ride to Jackson Basin, a 40 km circle route that involves 4,500 feet of climbing, a high alpine pass, amazing views and ghost towns. Local maps are available in Kaslo.