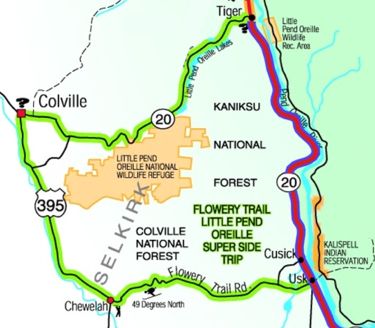 80 miles / 129 km
Tiger, Colville & Chewelah, WA
This mountainous, scenically stellar route will take you up and over one of the ridges of the Selkirk Mountain range twice. The roadway is newly resurfaced and adequate for any type vehicle. At the junction of Hwy 20 and 31 is a historic building that is all that remains of Tiger. A public rest stop and museum at this junction is also the beginning of this Super Side Trip. Turn west onto Hwy 20 toward Colville. You'll want to take a break along the glittering chain created by the Little Pend Oreille Lakes system. There are several Colville Forest Service campgrounds nearby these lakes.
"Our motorcycle club did a 4-day ride (2 bikes & 3 cars). The tour book you sent was great. It had a lot of good information, and for us, very helpful in getting motel reservations. It's a beautiful area and most of us would like to come back and finish exploring the area."
– L. Sutherland, Seattle, WA
Seven miles east of Colville is the Little Pend Oreille National Wildlife Refuge. The Refuge is the only mountainous, mixed-conifer forest refuge in the national Wildlife Refuge system. Found in the Refuge are towering older forests consisting of pines and other conifers. Over 200 nesting and foraging migratory birds species, 58 mammal species and 14 reptile and amphibian species use the Refuge's 40,198 acres of forests, streams, and wetlands seasonally. There are numerous picnic and bird watching opportunities in this area.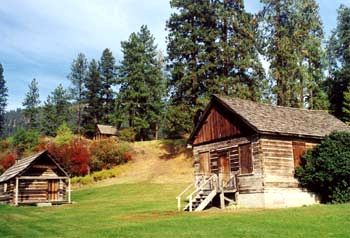 At the junction of Hwy 20 and Hwy 395 is one of Washington's oldest cities and lies within Stevens County which was recently awarded a "Preserve America Presidential Award", one of only two counties in Washington to receive this award. Colville is known as leader in historical preservation with a large museum and the "Keller House," a well-appointed reminder of the turn of the century. A walking tour through the historical downtown business district is a shear delight.  Visual and performing arts abound with a pavilion in the 18-acre Yep Kanum city Park – host to several major events during the spring and summer months. Nearby Lake Roosevelt, accessed by a short drive farther west on Hwy 20 at Kettle Falls, is the area's largest water sports playground.
South on Hwy 395 toward Chewelah you will travel through a lovely wide valley of mixed cultivated fields and coniferous forests. Chewelah displays a pleasant blend of the past and future. As far back as the early 1870's Chewelah established itself as an agricultural and later a commercial center with the opening of manganese mines during World War I. With its moderate climate dry land and irrigated farming, ranching and dairy farming were mainstays for many years. The hills and countryside around Chewelah are regarded as Washington State's best bet for bagging big game. Upland birds, including wild turkeys, are plentiful. Golfers look forward to spring and teeing off on eastern Washington's only 27-hole championship-rated golf course. The new clubhouse offers all the necessary amenities. East of Chewelah on Flowery Trail road at the top of the pass is 49 Degrees North Ski Resort. Beautiful views unfold around graceful curves as the Pend Oreille Valley comes into view, rejoining the main route at Usk.
Drive time: Allow 2 hours.