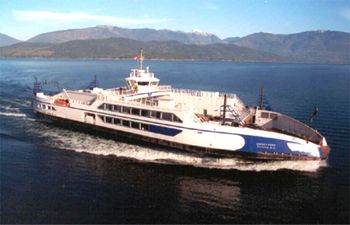 The Kootenay Lake Ferry is the longest free ferry ride in the world and well worth the voyage for the view alone, especially if it's your only opportunity to get on Kootenay Lake in a boat. In the summer months the Kootenay Lake Ferry system runs two ferries facilitating less wait times. If you are heading north from Creston, BC on Hwy 3A, leave 1 hr. 15 min before the next scheduled departure of the Kootenay Lake Ferry. Have your camera at the ready, its a great photo opportunity! The Summer Schedule starts mid June thru Labor Day weekend. Don't have a camera handy or the weather wasn't cooperating? Order your postcard of the Kootenay Lake ferry by clicking here.
KOOTENAY LAKE FERRY Year Round Schedule
EXPECT DELAYS DURING PEAK
PERIODS, WEEKENDS AND HOLIDAYS
All times listed are Pacific Time
Food Services on Osprey 2000 only
Times subject to change without notice
Summer Schedule in effect from third week of June to Labour Day
Vessel Name
Balfour Terminal
Kootenay Bay Terminal
Summer
Winter
Summer
Winter
Osprey 2000
6:30 AM
6:30 AM
7:10 AM
7:10 AM
Osprey 2000
8:10 AM
8:10 AM
9:00 AM
9:00 AM
Osprey 2000
9:50 AM
9:50 AM
10:40 AM
10:40 AM
M.V. Balfour
10:40 AM
11:30 AM
Osprey 2000
11:30 AM
11:30 AM
12:20 PM
12:20 PM
M.V. Balfour
12:20 PM
1:10 PM
Osprey 2000
1:10 PM
1:10 PM
2:00 PM
2:00 PM
M.V. Balfour
2:00 PM
2:50 PM
Osprey 2000
2:50 PM
2:50 PM
3:40 PM
3:40 PM
M.V. Balfour
3:40 PM
4:30 PM
Osprey 2000
4:30 PM
4:30 PM
5:20 PM
5:20 PM
M.V. Balfour
5:20 PM
6:10 PM
Osprey 2000
6:10 PM
6:10 PM
7:00 PM
7:00 PM
Osprey 2000
7:50 PM
7:50 PM
8:40 PM
8:40 PM
Osprey 2000
9:40 PM
9:40 PM
10:20 PM
10:20 PM
There are two vessels, the Osprey 2000, which is a large capacity ferry built locally in Nelson in, yes, you guessed it, 2000, and the smaller MV Balfour, which is added to the schedule during the high traffic season and when the Osprey 2000 is out of service for maintenance. Both vessels can easily accommodate RV's and vehicles of all sizes. If you have propane you will be required to close the valves on your tanks for the duration of the crossing, unless of course it is the primary fuel for your vehicle.
They ferry you between Kootenay Bay and Balfour and take approximately 35 minutes to make the crossing, though when you add boarding and departure time you can add another 10-15 minutes on top of that. The Osprey 2000 has a snack bar where you can get a snack, coffee and hot meal. There is no food service available on the MV Balfour.
Be aware that if you arrive just before the ferry is scheduled to leave you may not get on if the traffic is heavy, and during peak periods in the summer you may have a wait of a sailing or more. When traffic is heavy the ferries ignore the schedule and unload, reload and depart as quickly as they can in order to keep your wait as short as possible. Not to worry if you should have to wait awhile, as both Kootenay Bay and Balfour are beautiful spots with sandy beaches, restaurants and rest stops. Take the opportunity to stretch your legs, catch a bite to eat and mingle with the locals and other travelers.
Kootenay Lake is the delimiter between the Mountain and Pacific time zones. While crossing from one zone to another would usually mean having to change your watch, when daylight savings time is in effect you don't need to, as the east shore of Kootenay Lake to Creston doesn't ever change it's time – it's on Mountain Standard Time year-round. Mountain Standard Time is the same as Pacific Daylight Time.
For specific schedule info call 250.229.4215
For general inquiries please call 250.229.5650