Click here for driving instructions on getting to the Selkirk Loop from major metropolitan areas in western Canada and the northwestern US.
Border Crossing Delays Minimal
Fortunately, International Selkirk Loop travelers need not be overly concerned about delays at the US / Canadian border crossings at Metaline Falls-Nelway or Porthill-Rykerts. Normal border waits have averaged between zero and 20-minutes maximum.
However, in light of heightened security following the September 11 terrorist attacks, both Canadian and US customs officials are now checking the identification of all travelers and also doing random vehicle searches. The following tips have been provided by customs officials to expedite your border crossing:
You should have a picture ID (drivers license) along with proof of citizenship. A passport or NEXUS card is ideal and is required after June 1, 2009.
If you were born in the US and don't possess a passport, after June 1, you may exit the US via land crossing, but it will be difficult,

yet not impossible

to reenter the US. You will be delayed while you provide proof of your citizenship.
See our International Border Crossings page for specific crossing's hours of operation and more useful border crossing information.
Free Ferry on Kootenay Lake in BC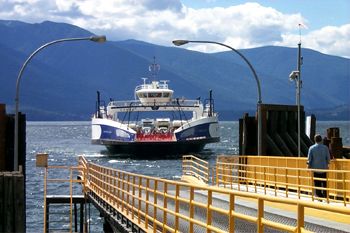 Enjoy the world's longest free ferry ride!
If you haven't seen the 5-page article on the Loop in the May 2001 issue of Sunset Magazine – you've missed one beautiful picture! It opens with a 2-page spread of the M.V. Osprey 2000, one of British Columbia's newest ferries, beginning its crossing of Kootenay Lake – a very spectacular photograph!
There have been a number of inquiries concerning the ferries' ability to accommodate RVs and motorhomes. Yes, both the M.V. Osprey 2000 and the M.V. Balfour can accommodate most any type or size vehicle. However, they do have a limited space capacity –the Osprey 2000 has a capacity of 80-car size vehicles, while the older Balfour has a smaller capacity of 20 or so. Please check the ferry schedule and the driving time to reach the terminal prior to your desired departure time. The ferry crossing takes approximately 35-minutes and is a very relaxing and scenic ride, so have your camera at the ready.
The Kootenay Lake Ferry year-round schedule is available here.
Sample Itineraries
We've put together a couple of sample itineraries as guides in planning your time on the Selkirk Loop. We have a 3 day / 3 night itinerary and a 6 day / 7 night itinerary which you can use. Click here to view the sample intineraries.