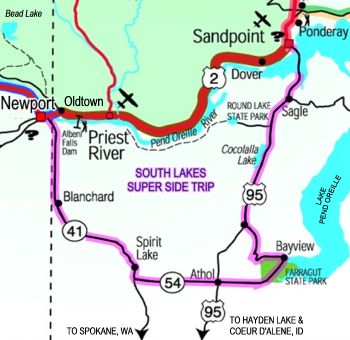 60 miles / 90 km
Blanchard, Spirit Lake, Athol, Bayview, Sagle
Aptly named, the South Lakes route will take you in close proximity to the area's pristine large and small lakes. Starting your side trip from Newport / Oldtown, follow Hwy 41 south. You'll first pass through the small community of Blanchard. StoneRidge Resort is just west of here and located within StoneRidge Recreational Community, which boasts a newly redone par 71, 18 hole golf course, restaurant, and lodging. The community of Spirit Lake and the 4-½ mile long Spirit Lake offers easy access at three public boat ramps. A few miles south of Spirit Lake, turn east on Hwy 54, traveling 11 miles / 18 km to the junction of Hwy 54 & Hwy 95. The small village of Athol is a good place to pick up quick supplies before heading east to Farragut State Park and Bayview.
Situated on the southern shores of Lake Pend Oreille, Farragut State Park is Idaho's second largest state park and is an excellent place for the family to relax, recreate and explore. Camping cabins, full hook-ups and tenting sites are available here and in nearby Bayview. Learn what role the US Navy played here during WWII through the fascinating military history of this facility by visiting its well done museum.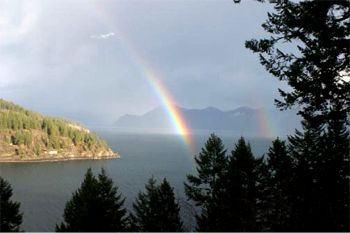 Get your last looks at Lake Pend Oreille when you leave Bayview until you cross the Long Bridge, gateway to the "West's Best Small Town" Sandpoint – Sunset Magazine, 26 miles to the north. Following Hwy 95 north for 14 miles the next lake on the west side of the highway is Cocolalla Lake. This lake provides easy year-round access to some excellent fishing. Although the primary fishing pressure on Cocolalla Lake has been for trout, opportunities for other warm water species really set this lake apart from other north Idaho lakes. A few miles north watch for the turnoff to Round Lake State Park on Dufort Rd. This is another nice small lake with opportunities for camping, fishing and hiking. Returning to Hwy 95, 5-miles north is access to Garfield Bay in Sagle on Lake Pend Oreille. Boating, lodging and camping as well as an excellent opportunity to take an easy 9-mile mountain bike or hike along the shores beginning and ending at the bay offer multiple recreational possibilities. Returning to Hwy 95 at Sagle continue north 5-miles to Lakeshore Drive and turn west. Take the time to explore the newly developed WaterLife Discovery Center. There are 3.5 acres of developed interpretive exhibits and a 6.5 acre forested wetland with trails and interpretive signs. Also nearby is the Springy Point Recreation Area, offering camping and picnicking along the shores of Lake Pend Oreille. For more exploring along the northern shores of "the second largest freshwater lake" west of the Mississippi, visit the Pend Oreille National Scenic Byway, part of another fine Loop Super Side Trip – Lake Pend Oreille / Kootenai River Super Side Trip.
Drive time: Allow 2 hours.