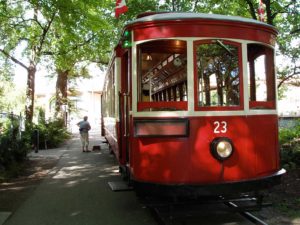 Situated along the lakefront, in beautiful, Nelson, BC lies a historical marvel.  Streetcar #23 is a fully functional streetcar that was once in use here in Nelson in the first half of the 20th century.  Once the backup streetcar for the defunct Nelson Street Railway, it has had a colourful history.
The Nelson Electric Tramway Society, along with The Chamber of Commerce, Royal Bank, and Selkirk College restored this Streetcar, and  the Society provides a scenic ride along Nelson's waterfront.  The society is all volunteer driven, and our streetcar is one of Nelson's most interesting attractions.
We invite you to come for a ride, and share in the wonderful history of the Queen's City.  Young and old, there is something for everyone to enjoy.
Member Info
701 Lakeside Drive
Nelson British Columbia V1L 6G3
Canada
Phone: 250-367-9564
Toll Free: 1-877-367-9564
Fax: 250-367-9570
Email this business
Visit Website