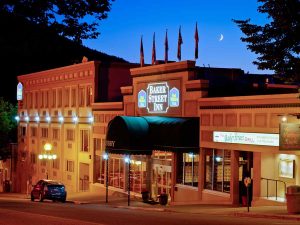 Located on Nelson's historic Baker Street, the newly renovated BEST WESTERN PLUS Baker Street Inn offers excellent facilities and comfortable, elegant accommodations. Our hotel in Nelson, B.C. has received a Triple Green Key Eco-Rating for our commitment to sustainability and is a top-rated property by TripAdvisor earning a Certificate of Excellence Award.
You can count on being able to relax in comfort and style. From our luxurious Deluxe Jacuzzi Suites to our tastefully decorated, pet-friendly guest rooms, you'll find accommodations to suit your needs and budget. All guest rooms are equipped with mini fridges, microwaves and coffee makers.
Enjoy onsite dining at our very own Baker Street Grill, and take advantage of our numerous top tier amenities including fully equipped conference facilities, a fitness centre, and indoor whirlpool.
From free high-speed wireless Internet and complimentary guest computers to laundry service, free motorcycle-friendly parking and no-charge kids' accommodations, our BEST WESTERN PLUS Nelson, BC hotel goes above and beyond to supply all the comforts of home and convenience of the workplace.
When it's time to book your stay, make reservations quickly and securely with us online. We'll always guarantee you the best rates. And never hesitate to contact us. Our friendly staff at our hotel in Nelson, B.C. are always standing by, ready to help you plan your visit.