The Libby area is an outdoor enthusiast's playground. Summer offers fishing, hiking, camping, boating, biking, ATVing, wildlife viewing, golfing and more. Winter brings downhill and x-country skiing, snowboarding, ice fishing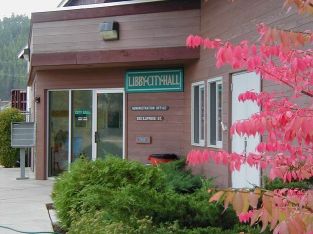 and snowmobiling. Whatever the season, the Kootenai National Forest contains 2.2 million acres and 3 wilderness areas in which to play! Libby is only 15 miles / 24 km east of the Hwy 2/56 junction of the Selkirk Loop's Lake Pend Oreille – Kootenai River Super Side Trip.
The Kootenai National Forest has more than 1,400 miles of trails and does not require back country or wilderness permits. Remote hiking areas include the Cabinet Wilderness, Ten Lakes and Northwest Peaks Scenic Areas, as well as 5 designated National Recreation Trails.
While in the Libby area take a free tour of the Libby Dam, 16 miles north of Libby, forming Lake Koocanusa, a 90-mile long reservoir stretching into Canada, with several campgrounds upstream and excellent fishing. Lake Koocanusa contains trout as well as kokanee salmon. Montana's record small mouth bass was caught on a Kootenai National Forest lake. The Kootenai River is considered a blue-ribbon trout fising river.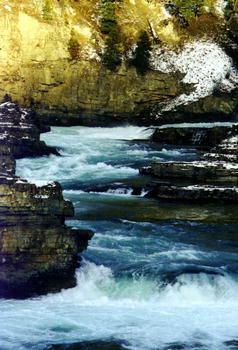 The Cabinet Mountains wilderness area contains mountainous, rugged terrain that runs north/south through the center of the Kootenai National Forest. High mountain peaks, notably Snowshoe, A Peak, and others ranging from 7,618 feet to 8,738 feet, provide a scenic backdrop for Libby and the surrounding area. More than 20 trails leading into the Wilderness give access to dozens of small lakes, ridgetop panoramas, and alpine meadows.
Kootenai Falls on the Kootenai River, adjacent to U.S. Highway 2 between Libby and Troy, is a major scenic attraction. The placid river which carries water volumes ranging from 3,500 cfs to 30,000 cfs, suddenly gathers momentum, surging first through China Rapids and then over Kootenai Falls, dropping 90 feet in less than a mile. The main falls is 30 feet high.
The falls area is a sacred site to the Kootenai Indians who once called this area home. This was a place where tribal members communed with spiritual forces. In the early 1800s, David Thompson, a Canadian explorer and employee of the Northwest Company, traveled into the Kootenai river area and used the Kootenai River as a navigational guide through the area following Native American Indian and game trails. He portaged around the falls, following cairns — piles of rocks marking the trail — built by the Kootenai Indians.