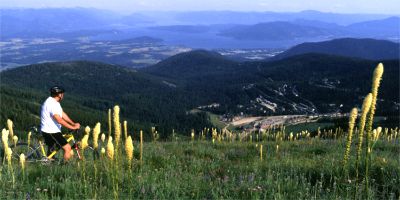 Less than 1 hour north of Coeur d'Alene, the approach from the south into Sandpoint on Hwy 95 sets the stage for a dramatic entrance; crossing a two-mile long bridge over the beautiful Lake Pend Oreille (pronounced pond-dor-RAY). Sandpoint sits on the north-western shore of the 43 mile long lake, which comes alive in the summer months when fisherman and water sports enthusiasts of all types explore this vast aquatic playground. Take a cruise, rent a houseboat, windsurf, kayak or simply swim in the beautiful clear water. At the end of Bridge Street sun worshippers can relax at Sandpoint City Beach's beautiful sandy shores, overseen by lifeguards and bordered by a lovely park with BBQ pits, tennis and volleyball courts and a public boat launch. Lake Pend Oreille holds the world record for a Kamloops Trout, caught in the late 1940's. The average size trout is around 12 lbs, but local derby winners boast catches over 20 lbs.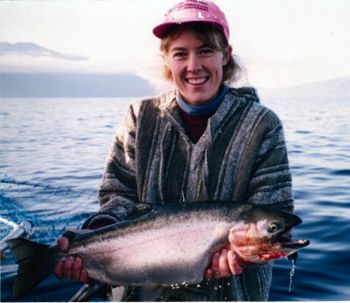 There are many fishing charters available in the Sandpoint area to help you land "the Big One."
In addition to all the canoeing, kayaking and fishing Lake Pend Oreille offers, Sandpoint is home to a wide variety of outdoor activities. Just northeast of Sandpoint on Highway 200 are the user-friendly 9-hole Elks Golf Club.  There are designated bicycling paths both south and west of town offering over 12 paved miles of peaceful peddling for the whole family. Campers, hikers and mountain bikers love the unparalleled beauty they discover on the miles of back roads and trails in the surrounding wilderness. Check out Pend Oreille Pedalers for information about Sandpoint area bike trails. Three National Forests are easily accessible from Sandpoint: Idaho Panhandle, Colville and Kootenai National Forests. Stop in at the Sandpoint Ranger Station west of town on Highway 2 or call 208-263-5111 for maps to hundreds of miles of outstanding hiking, backcountry camping and mountain bike trails.
Located minutes from downtown Sandpoint and sitting high atop the Selkirk Mountains, Schweitzer Mountain Resort is the inland Northwest's largest ski resort with 2,500 acres of terrain, offering endless year-round mountain adventure and world-class accommodations. Schweitzer, "The Mountain on the Lake," offers the winter vacationer unlimited possibilities with its miles of nordic and snowshoe trails, and snowmobile and backcountry tours. Ride the lift to the top in summer to get spectacular views all the way to Canada and Montana, and then hike or mountain bike down on the many trails back to the village.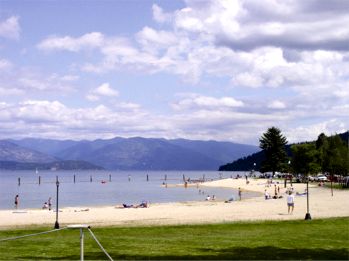 While excellent entertainment is available year round, cultural diversions are particularly plentiful during the warmer months. The annual "Lost in the 50's" celebration in May, held in downtown Sandpoint, offers a wide variety of entertaining events including a parade featuring hundreds of antique cars. Each August the annual "Festival at Sandpoint" stages concerts by many famous performers and groups on the shores of Lake Pend Oreille, including the Spokane Symphony Orchestra, along with other international talents. Listed among the "100 Best Small Arts Town in America," Sandpoint hosts a talented collection of resident artists who draw inspiration from the beautiful surroundings, evident by the two-dozen galleries located in town and the surrounding area.
In addition to the galleries visitors will find many unique shops and an excellent selection of restaurants in Sandpoint's pedestrian-friendly downtown area — major attractions any time of year. World-class shopping wouldn't be complete without stopping at Coldwater Creek; this beautiful log structure on Sand Creek is the first of many retail outlets for this nationally known catalog retailer.
Sandpoint area early history has much in common with other Pend Oreille communities, with its native peoples, early explorers, fur traders, prospectors and settlers.
"I can't tell you how great a time we had while in your beautiful corner of Idaho. We planned to do the Loop, but unfortunately there was so much to do and see in and around Sandpoint we stayed busy for 3 days." -C. Konecny, Bothell, WA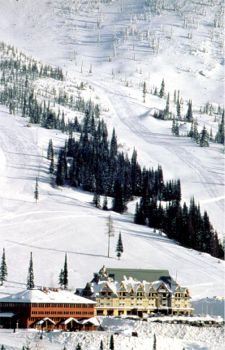 While in Sandpoint take in a special feature at the recently restored Spanish-mission-style Panida Theater, built in 1927 and where you can experience theater from a bygone era. An small outback, pioneer settlement in its early days, it wasn't until the Northern Pacific and the Great Northern Railroads arrived that the town grew and became home to the Humbird Lumber Company during 1901 and the Northwest's leading supplier of cedar telephone poles. Today, Sandpoint is one of the West's greatest railroading towns, known as where the Burlington Northern Santa Fe, Montana Rail Link and Spokane International rail systems all converge to create "The Funnel," an amazingly active rail crossroads with more than 40 trains a day traveling through and drawing rail buffs from around the world to see them. Discover more about Sandpoint's past at the Bonner County Historical Society & Museum; a wonderful place to learn about the first settlers here.
Close by the museum is the Native Plant Arboretum at Lakeview Park west of downtown Sandpoint, includes a wild medicinal herb collection. Take a winery taste and tour while downtown at the Pend d'Oreille Winery, Idaho's Winery of the Year in 2003. Across the long bridge south of Sandpoint is the Waterlife Discovery Center, offering interpretive trails and self-guided tours of fish habitat and an educational interpretive area. For an afternoon drive, journey North Idaho's only National Scenic Byway, the "Pend Oreille National Scenic Byway," and the start of our Lake Pend Oreille & Kootenai River Super Side Trip.
There's a lot of buzz happening about Sandpoint: Sunset Magazine recently voted Sandpoint "The Best Small Town in the West," the August 04 issue of Outside Magazine crowned it one of 20 "Dream Towns," and September's National Geographic Adventure includes it among the 10 "Great Adventure Towns." With the population at just under 7,500 Sandpoint is the Loop's largest US town, and visitors to Sandpoint are not only impressed with the scenery but are won over by the friendliness of the townsfolk and the casual pace of life here. Whether seeking culture, adventure, or relaxation, visitors to Sandpoint will find it an unmatched destination in every season — lakeshore to mountaintop, Sandpoint is a whole lot of fun!
For more information on Sandpoint check with the Greater Sandpoint Chamber of Commerce, VisitSandpoint or visit SandpointOnline.com.