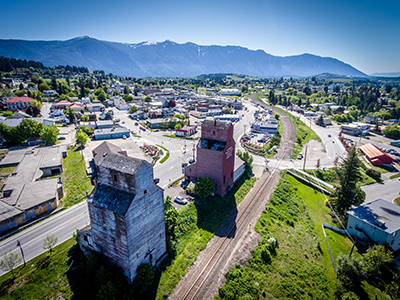 Tucked into the sunny bench between the Purcell and Selkirk mountain ranges and just below Kootenay Lake, the Creston Valley is a perfect retreat for outdoor adventurers, foodies, creative souls, and anyone in need of a wholesome home-away-from-home experience.
The Creston Valley's unique climate and incomparable geography make it a fertile place where you can feast like royalty on a 10-mile diet. From the award-winning Creston Valley Farmers' Market to quaint fruit stands and charming local restaurants, it's easy to find something fresh to satiate your tastes. For those who want to experience the farm first-hand then booking a U-Pick, taking a farm tour or doing a tasting at one of the many breweries, distilleries and wineries is also a must! For some local flavour the Orchards Galore Super Side Trip is just east of Creston on Hwy 3. Another must see highlight is the Columbia Brewery, home of Glacier fresh Kokanee Beer! Throughout the summer a daily brewery tour is available, which ends at the Kokanee Beer Gear Store, where you'll sample the product and have a chance to shop.
The area also has a rich First Nations history, with the Yaqan Nukiy tribe of the Ktunaxa First Nation calling the area home since time immemorial. These people were famous for their uniquely designed sturgeon-nosed "Yaksumit" canoes that cut through thick reeds and grasses of the valley's once immense wetlands in order to harvest wild rice, fish and hunt the plentiful herds of Elk & Deer. To learn more about the local Yaqan Nukiy people's history and culture be sure to visit Legend Logos Gift Shop & Yaqan Nukiy Interpretive Centre on Highway 21. And for a more in-depth history of the whole area visit the Creston Museum, regarded as one of the finest small museums in BC, with an impressive collection of authentic historic buildings and unique and fascinating artifacts from Creston's yesteryears!
Today all that remains of the wetlands that covered the entire valley floor is the Creston Valley Wildlife Management Area, a RAMSAR designated wetland of international importance that covers 17,000 acres, boasts 32 kilometers of walking trails, and is home to over 300 species of migratory birds, 57 species of mammals, and 29 species of fish, reptiles, and amphibians. At the entrance to the CVWMA's walking trails the Kootenay Columbia Discovery Centre is a great place to learn more about this unique habitat and the creatures that call it home. Optionally, in the summer book a tour by canoe or on foot with one of their informative naturalists.
A fo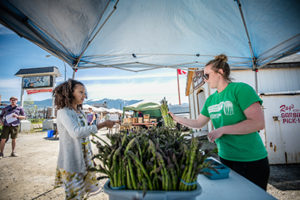 ur-season playground sheltered by the Selkirk and Purcell ranges, the Creston Valley is also an accessible basecamp for activities at the nearby lakes, rivers and in the surrounding mountains. In the spring, summer and fall popular outdoor activities include hiking, mountain-biking, boating, kayaking, SUPing, fishing, swimming, and bird watching. The mild climate in the Creston Valley means a golf season starting in early March with great weather lasting until the end of October. Look for the 18-hole Creston Golf Course turn-off south of town on Highway 21 for some excellent golf at this championship course. In the winter months cross country skiing can be enjoyed in the wetlands while the nearby Kootenay Pass' ultra deep snowpack attracts powder hounds for snowmobiling and back-country ski touring!
Inspired by the Valley's incredible natural beauty, the area is also home to a community of talented artists and artisans who sell their wares in rustic galleries and home studios that are well worth visiting. Otherwise be sure to take time to wander the charming downtown to explore a number of unique boutiques and shops, as well as the iconic twin grain elevators that overlook the valley. During the evening pick from your choice of entertainment options – from a night out at the movies, to a round of bowling or enjoying some cocktails and live music at one of the local pubs and bars.
Want to learn more? Plan your trip by visiting the Official Creston Valley Visitor's Website or on Facebook & Instagram @explorecrestonvalley.
For some local flavour the "Orchards Galore Super Side Trip" is just east of Creston on Hwy 3.
For further questions and assistance when in the area be sure to drop by the Creston Valley Visitors Centre at 121 NW Boulevard in Creston or call 250-428-4342.