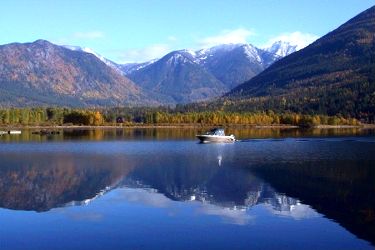 Crawford Bay is the central community of the many hamlets along the East Shore of Kootenay Lake. Spectacular Kokanee Springs Golf Resort forms the centrepiece of the green floodplain of Crawford Creek on which Crawford Bay sits.
Crawford Bay has a beautiful sandy beach and marina, and with the verdant mountainside trails and back roads and extensive shoreline provides a wealth of recreational opportunities for excellent hiking, biking, boating and camping.
"Rented a beautiful chalet at Crawford Bay for 4 nights. Great area to get some peace and quiet, with lots of recreation." ~ D. Morrison, Calgary, AB
The surrounding natural splendor has been a draw to artists and craftsmen, and the area has become a haven for a very creative community. Visitors love to tour the unique Artisan's of Crawford Bay shops where blacksmithing, weaving, broom-making, copper enameling and wood carving can be seen in action.
Crawford Bay is host to the Starbelly Jam Music Festival, an annual summer community event renown for its casual and inviting family atmosphere, as well as fantastic music and entertainment from seasoned and up-and-coming performers alike.
Services include a grocery store, a pub, service stations and restaurants. Accommodations include motel, lodge, an historic country inn, cabins, and RV Park & campground, with the Community Park and mini-golf nearby.