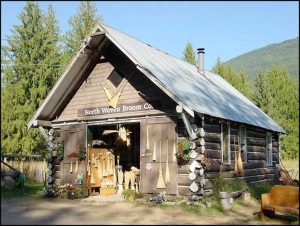 Owner Luke Lewis weaves corn brooms onto unique handles using antique broom making equipment. See thousands of functional art brooms hanging from the rafters in the historic log barn.  Over the years our brooms have appeared on TV, in movies, including Bewitched, and in other forms of media.  Here are some of our other brooms that have caught the media's attention:
Harry Potter book promotions:
In 2007 and 2003 We worked with the Canadian publisher of the Harry Potter series, Raincoast Books, to produce a total of 300 full-sized brooms and 500 miniature brooms for marketing of Harry Potter and the Order of the Phoenix, and Harry Potter and the Deathly Hallows. The brooms were made using Forest Stewardship Approved handles from the Harrop-Procter community forest to promote the fact that the Canadian Edition of the books were printed on ancient forest friendly, recycled paper.
These brooms were similar to the rustic round Untrimmed brooms in our catalogue. 10 of the brooms had copper enameled lightning bolts attached to them. The lightning bolts were produced by our neighbor Helene of Fireworks Copper & Glass.
Bewitched Movie:
We spent much of the summer in 2004 making a variety of prototypes and creating a final product for use in the Bewitched movie. We had a lot of fun with this project, and also made approximately 40 brooms in the Spring of 2005 after filming was complete, which were used to promote the movie.
Stage Productions:
Our brooms have appeared in a variety of live performances including the Lyric Opera of Chicago's La Traviata and Broadway's Fiddler on the Roof . Our brooms have been used by the North East School of Dance (Ct.), Childsplay in Arizona, the Vancouver Opera, Shaw Festival in Ontario, and the National Ballet of Canada (Ontario). We also have a broom on display at the Smithsonian Institute.