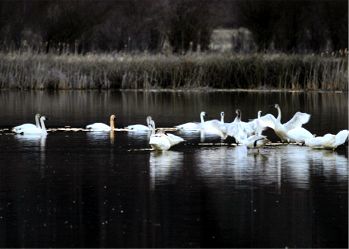 Cusick is located in the Kalispel Valley, nineteen miles north of Newport along the south bank of the Pend Oreille River on State Highway 20. The town of Cusick is surrounded by lush fields of timothy hay and expansive cattle ranges. Pine forest covers the surrounding mountains, creating panoramic views in all directions. Eagles and Osprey now compete for nesting sites in the river on the wood pilings that once were used to store thousands of logs for the lumber mills along the banks. Huge flocks of tundra swans migrate through Cusick and Usk in February and March.
The Kalispel Tribe of Indians occupy the valley, holding reservation lands on the east side of the river and a business park on the west bank north of Cusick. The industrious Kalispels operate Case Line Products in the business park and manage a buffalo herd and bass hatchery on the east bank of the Pend Oreille.
Above this splendid valley in the surrounding foothills is the Colville National Forest with several lakes and campgrounds. Among them is the Batey–Bould ORV (off road vehicle) Park, one of the few such designated parks with specific facilities for motorized 4-wheel drive. There are campsites and restrooms at the trail head. Follow the signs just north of Cusick, turning west onto Knapps Road. There are 38 miles of off-road trails to explore. This trail system also links to the 45-mile Little Pend Oreille Trail System.
In Cusick, visit the recently enhanced town park, interpretive river walk providing environmental education and picnic area. There is a boat launch and dock located here to provide access to the river.