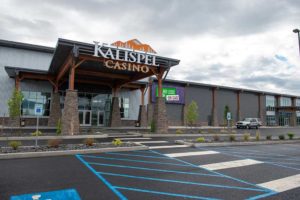 Kalispel Casino in Cusick, WA, features popular slot machines, monthly promotions, and sports betting. It's the place to go in Northeast Washington for food, fun, and gaming excitement.
Enjoy a bite to eat at Wetlands, a family-friendly, non-smoking restaurant at the casino serving breakfast, lunch, and dinner. In the mood for a friendly game of pool or shuffleboard? Grab a cold beer or sip on a signature cocktail at The Slough featuring a comfortable lounge and several large HD screens.
Earn and redeem points and win great comps and rewards with our Camas Rewards card. Not a member yet? It's easy and free to sign up at Kalispel Casino.