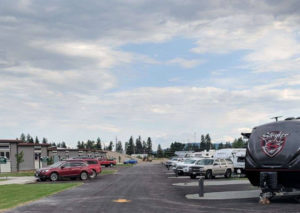 Whether you're traveling along the International Selkirk Loop or recreating at the nearby mountains, lakes or river, you'll find all the amenities you need at Kalispel RV Resort.
Located just steps away from Kalispel Casino you can enjoy exciting gaming entertainment and dining. And at Kalispel Market you'll find grocery essentials and camping supplies for your getaway. When you hit the road, fuel up and save with the Camas Rewards card.
Kalispel RV Resort offers 33 full hook-up sites, including Wi-Fi. And if you don't have an RV, you're welcome to stay in one of our eight cozy cottages! At Kalispel RV Resort you can stay and play in style!