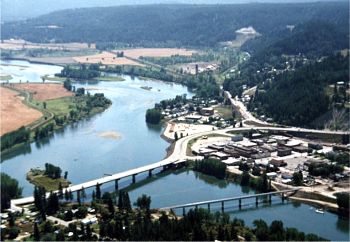 The town of Bonners Ferry originated as a river crossing point; traversed first in Indian bark canoes and then by Edwin Bonner's man-powered ferry, built in 1865 to transport the miners rushing to the new gold strike on Wild Horse Creek in British Columbia. Bonners Ferry was also an important steamboat port until 1899, when the completion of the railroad to Kootenay Lake made the big steam wheelers obsolete.
Visit historical downtown Bonners Ferry where earlier this century traditional wood frame structures, many of which were built on stilts, were replaced with two-story brick buildings which withstood annual spring flooding. Visit the Boundary County Museum which holds hundreds of photos of the flooded streets, with many of the same buildings still recognizable.
Bonners Ferry is home to the Kootenai Tribe of Idaho, one of six bands of the Kootenai Nation. Historically a semi-nomadic nation roaming the entire Selkirk Loop region, the Kootenai Tribe has retained its native language and other cultural elements more strongly than most other Native American groups in the US. In recent years the tribe has successfully established the only casino on the Loop route at the Best Western's Kootenai River Inn. West of Bonners Ferry the Tribe also operates a white sturgeon and burbot hatchery, both endangered, with interesting tours available on Tuesdays and Saturdays at 1:30pm or make special arrangements by calling ahead (208) 267-7082.
Be sure to visit t he Kootenai National Wildlife Refuge, located 5 miles west of Bonners Ferry, was established in 1965 to reclaim some of the Idaho Panhandle wetlands. The 2,774 acre refuge was purchased with funds generated from Federal Duck stamp sales. Its primary purpose it to provide resting and feeding habitat for migrating water fowl using thePacific Flyway. Open year round, a 4½ mile loop tour road, for automobiles and bicycles guide visitors to wildlife observation points. Foot trails provide access to wildlife habitats and photo blinds. In the valley to the north the Nature Conservancy's Ball Creek Ranch Preserve and The Boundary Wildlife Management Corridor provide 4,000 additional critical habitat acres for migrating waterfowl and large mammal species.  Further up the Kootenai Valley near the International Border is the Boundary/Smith Wildlife Management Area.  This 2,026-acre fish and wildlife habitat comprises floodplain and coniferous forest with unique viewing areas and trails. During April, surface water accumulations support thousands of migrating waterfowl. By late May, Boundary Creek flows peak, filling the floodplain wetlands.
"Loved it: the beauty of the mountains, forests, lakes, historic town and nice people.  Will come back." -B. Monette, Portland, Oregon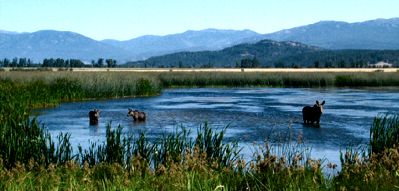 Agriculture and timber remain an integral part of the Boundary County, of which Bonners Ferry is the county seat. Today there are thousands of acres devoted to ornamental nursery stock and Christmas trees as well as wheat, oats, barley and alfalfa in the rich fertile Kootenai Valley. At the far north end of the county is the there is a scenic overlook of the Selkirk Mountains and Kootenai Valley with  views of a former hops farm (the poles are still in place) ¼ mile south of the International Border Crossing at Porthill on State Hwy 1.
Year-round outdoor recreation is a primary attraction for natives and visitors alike. Hiking, hunting, skiing, snowmobiling, and endless backcountry trails beckon from every direction. Dozens of alpine lakes and streams, sparkling like so many diamonds, dot the Selkirk Crest. For a taste of a high mountain lake experience, Roman Nose Lake west of Bonners Ferry is the only lake in the Selkirks that is wheel chair accessible. Visit the Bonners Ferry Ranger Station on Hwy 95 just south of town or call 208-267-5561 for trail maps.
Visit the International Gateway Visitor Center in downtown or for more area information check with the Boundary County Economic Development.