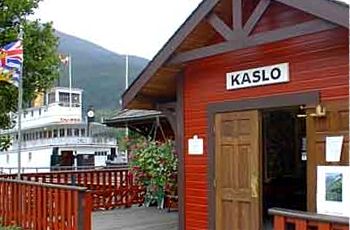 Kaslo, "Paradise on the Lake," has been voted one of Canada's prettiest towns. This charming, noticeably art oriented community has a fun shopping district, great restaurants, museum and is also host to the Kaslo Jazz Etc Festival every August. Fishing charters are available out of Kaslo, and will take you out to try your luck catching the record holding Gerrard Rainbow Trout, Kokanee (land-locked Sockeye Salmon) and Dolly Varden (Bull Trout) found in Kootenay Lake.
The community is the final port for North America's oldest restored stern-wheeler, the majestic SS Moyie. Built in 1898, the SS Moyie served communities of Kootenay Lake for almost 60 years. Open daily throughout the summer.
"It's a great part of the world, better than Europe." -R. Miller, Hayden, Idaho
Prior to being incorporated as a city in 1893 Kaslo was a vibrant steamboat port on the Kootenay Lake chain, serving the first mining companies and early pioneers who depended on water transportation for commerce and communication.
Kaslo is a vibrant cultural community with great accommodations, fine eateries and a complete array of services. Kaslo has a lovely city park and covered picnic area. Take the time to explore the Langham Cultural Centre, a heritage building rescued from the wrecking ball in 1974 and restored to become a venue for fine arts and performance. Nearby Kokanee Glacier Provincal Park provides outdoor recreation opportunities. There are also fat tire cycling trails to be found between Kaslo andNew Denver.
Visit the Kaslo Chamber of Commerce for more information on this area.