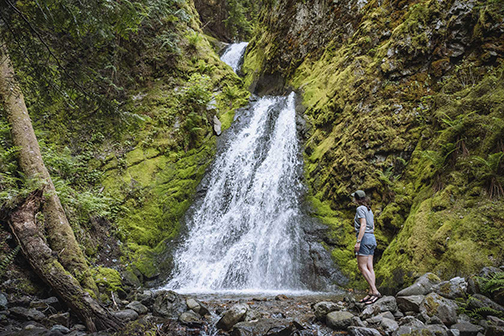 When hiking the International Selkirk Loop region there are options for day hiking and backpacking. The Panhandle National Forest in Idaho and the Colville National Forest in Washington each has a network of dozens of trails to suit any ability from handicap accessible trails to rigorous backpacking trails. Check with local ranger stations within each forest service district for maps and guides as to where to go. You will also want to consider the incredible trails in the Kootenay region of British Columbia. Hiking maps can be found in many of the visitor centers along the route.
Pick up a free copy of "Day Hikes of the Selkirk Loop" – 3 regional maps designed to identify favorite "must do" hikes for each region of the Selkirk Loop, North Idaho & W. Montana, E. Washington and the East and West Kootenay Region of British Columbia. There are 30 day hikes identified along with 17 strolls to waterfalls. You can find a copy at any local Selkirk Loop Visitor center in any of the Selkirk Loop communities. The hikes are intended to be accessed spring, summer and fall and are suitable for most people.
An excellent book to consider when deciding where to hike in the Selkirk Mountains in Idaho and Washington is "Trails of the Wild Selkirks: South of the Canadian Border" which containing 170 hikes from easy to multi-day. Order a copy today by clicking here.
Here are a few recommended trails to try that are accessible and enjoyable for the whole family, some of which are different than the ones on the new hiking maps mentioned above:
North Idaho Area:Ball & Pyramid Lakes Trail #43 (Bonners Ferry area)
Mineral Point Trail #82 (Sandpoint area)
Mickinnick Trail #13 (Sandpoint area)
Navigation Trail #291 (Priest Lake area)
Northeastern Washington Area:
Lower Wolf Trail #304 (Newport area)
Mill Butte Trail (Little Pend Oreille National Wildlife Refuge)
Meadow Creek Trail #125 / Lakeshore Trail #120 (Ione / Colville area)

East & West Kootenay Area (BC):
Gibson Lake Loop Trail – Kokanee Glacier Provincial Park (Nelson area)
The Centennial Trail (Rossland area)
Mel Deanna Trail (Castlegar area)
Idaho Peak – Wakefield Trail (New Denver area)
Cabinet Mountain Wilderness Area:
Consider taking "Lake Pend Oreille-Kootenay River Super Side Trip" which takes you east of Sandpoint, Idaho and into Montana. The route will provide access points into the Cabinet Mountains and the Cabinet Mountain Wilderness Area. When hiking in this area, the book "Trails of the Wild Cabinets" is considered the bible for exploring this magnificent range.