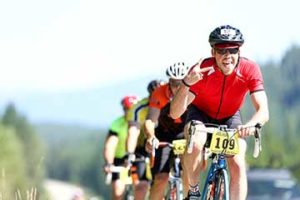 Cycling on the International Selkirk Loop comes in many forms suitable for all ages and abilities from road touring, to rail trails, to fat tire trails. No matter what your taste in two wheel travel, you are sure to find an excellent variety of choices.
For rail trails, single track or any other type of off the pavement type of biking, check out our mountain biking page for a wealth of information to start planning.
If you choose to tour the International Selkirk Loop by road the main 280 mile / 450 kilometer route follows glacially carved river valleys, lake shorelines and historic waterways. The roadway itself is of a two lane nature with shoulders adequate in some places and narrow in others. There are also many alternate secondary roads to consider when planning your trip. Traffic is generally light, with the busiest time of year being July and August. Cycling in September to mid-October will provide you with warm days, crisp nights and beautiful fall colors. Spring means late April through mid-June in the northern latitudes. This time of year is beautiful with snow capped peaks, spring flowers and lush green fields, but it can be more challenging with a higher chance of rain and blustery weather.
Add to that the International Selkirk Loop's six Super Side Trips which provide you with an additional 450 miles / 725 kilometers of unique riding enjoyment.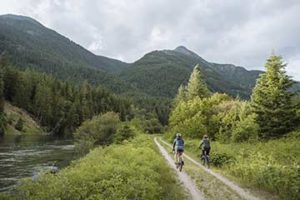 The International Selkirk Loop has elevation maps specifically designed for cyclists divided into managable 50-70 mile segments.  This ringbound, water resistent 56 page booklet consisting of 52 maps is a must have for those considering cycling the Selkirk Loop.    It will include all of the main route as well as every Super Side Trip.
Preview our virtual cycling Map.
Order a "Cyclists Guide to the International Selkirk Loop".
If you'd like to tour the Loop as part of a fully supported  fun ride, the International Selkirk Loop has partnered with Rotary International to put on the annual WaCanId Ride each September.  The ride is limited to 150 riders and registration fills up quickly.  Come join us for a great ride.