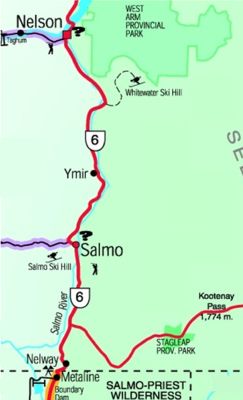 As you head south from Nelson you climb past thundering Cottonwood falls at the edge of town and follow Cottonwood Creek into the high, thickly forested valley leading to Ymir and Salmo.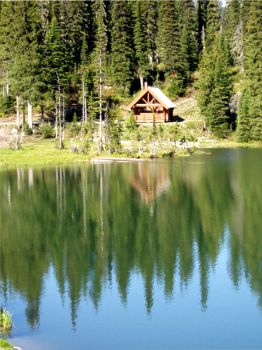 After the access to Whitewater Ski Hill, reknowed for its deep powder skiing, you will soon come to a low level pass and start downhill again alongside the Salmo River and into the towns of Ymir and then Salmo. Salmo is known as "the Hub of the Kootenays" as it forms a crossroads between Trail to the west, Nelson to north, Creston to the east via Hwy 3 and Metaline Falls, WA to the south.
Highway 3 to Creston takes you over the Kootenay Pass and is also known as "the Skyway," as it is the highest elevation highway in BC. Watch for big horn sheep that can be frequently seen on the western slopes leading up to Kootenay Pass. On the west side of the pass, near the summit, is Stagleap Provincial Park, which is a high-country area with excellent summer hiking and winter cross country skiing.
This area is wild and remote, a true wilderness lover's dream. From the steep, thickly forested mountain slopes to the rushing torrents of water and alpine high country, it is a great place to get away from it all. Keep your eyes open for the abundant wildlife.
Continuing south on Highway 6 along the Salmo River brings you to Nelway and the International Border.