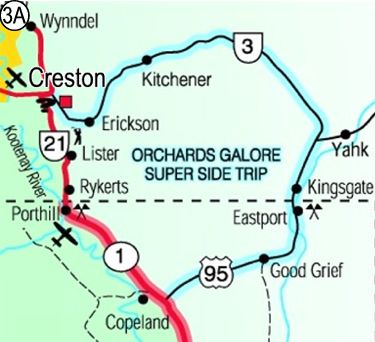 50 miles / 80 km
Good Grief, Eastport, ID, Kingsgate, Yahk, Kitchener, Erickson, BC
This side trip will take you through peaceful meadows, along the alluring Moyie River and through orchards thriving in a unique geographical climate. Starting at the US 95 / Idaho 1 junction, as you climb, you will notice 3 newly constructed wild game crossing tunnels. This is a migratory route for elk and deer between Hall Mountain and the river valley. Stop at the new scenic overlook one mile from the junction for great views of the Selkirk Mountains and the Kootenai Valley. At the top of the grade, this area has opportunities for mountain goat viewing and traverses through wetlands where moose are often spotted.
Seven miles south of the international border is a small US Forest Service campground at Robinson Lake with 10 sites available.  Directly north of Hwy 95, this small, 60-acre lake is a good trout and bass fishery with a nice dock for easy access.
Picnic at an unusual and unexpected interpretive site by turning south onto Meadow Creek Rd No. 229 at Good Grief, marked by a store with a cafe, which used to be a community.  Travel 3-miles to Moyie Crossing, where a beautiful overlook of the river is decorated with fish-and-rock sculptures.  Travel an additional 5-miles south to Meadow Creek Campground, a US Forest Service facilit with 22 campsites.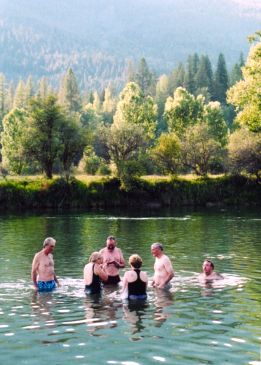 Another campground is found two miles south of the international border at Copper Creek. Follow Road No. 2517 to the US Forest Service facility with 16 campsites.  Be sure to take the short hike to Copper Creek Falls, a short, easy forested walk to a serene, lovely waterfall.
As you cross the International border (open 24 hrs) at Kingsgate /Eastport, Hwy 95/3 follows along the Moyie River. The Moyie River from Moyie Lake in BC to Kingsgate is an open canoeist route ideal for those wishing to enjoy a quiet paddle through prime wildlife country. Watch for your turn west to Creston just before the charming town of Yahk. But do visit the Yahk area, if time allows, as it is known for its numerous unique antique shops, charming accommodations and cozy little places for a quick meal.
Heading toward Creston you will be following the Goat River on Hwy 3.
If you have a 4×4 or high clearance vehicle, take the time to drive to the top of Mt. Thompson. Five km. east of Creston turn right onto Canyon Lister Road (at Mountain Park Store and Campground), go 1 km over the bridge then left onto Whimster Road. Once at the top park and hike through alpine meadows along the ridge. There are many picnic sites with a panoramic view of the Selkirks to the west and south and the Purcell Mountain Range looking east toward Cranbrook. Also in this area be on the lookout for Lady's Slipper Trail where wildflowers, including a number of wild orchids, are found on the way to the top of Goat Mountain to the north of Creston.
As you approach Creston enjoy the scenic beauty of the farm and orchard fields as this leisurely route winds its way west. Look for local produce at one of the many fruit and vegetable stands along this route. Try some freshly picked cherries, peaches, apples, pears or other fresh produce.
Drive time: Allow 1½ hours