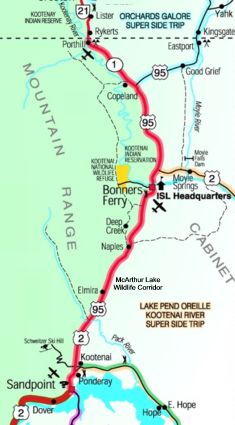 The Wild Horse Trail Scenic Byway, part of the International Selkirk Loop, starts on the northwestern shores of Lake Pend Oreille in the resort community of Sandpoint. Heading north along the eastern side of the Selkirk Mountains the roadway follows the Kootenai Tribe's historic path to fishing grounds at Lake Pend Oreille. In 1808 the first white explorer David Thompson also utilized this trail. The "Wild Horse Trail" became more than a path in 1863 when gold was discovered in "Wild Horse Creek;" 120 miles to the north of Bonners Ferry Idaho in British Columbia. There was a large movement of men and pack animals along the "Wild Horse Trail" until the gold rush ceased circa 1880. Upon arrival of the Northern Pacific railroad to this region David Thompson's old route became a main freight line for the railroad.
"Thanks for helping fulfill the dream of returning to my favorite part of the world if only for a short while. Your booklet helped us search out items of interest and experience scenery we still consider unmatched even after a 35-year absence."
-T.C. Johnson, Fargo, ND
Just south of Bonners Ferry a stunning wide glacial valley comes into view. The rich soil deposits left behind as the glaciers receded formed fertile lands which even today support a wide variety of agriculture throughout the Kootenai Valley.
The Kootenai National Wildlife Refuge west of Bonners Ferry and the McArthur Lake Wildlife Management area offers a wealth of recreational opportunities including wildlife viewing, bird watching and hiking trails. There are six major access roads leading into the Selkirk Mountains onto Panhandle National Forest lands where recreational opportunities for hiking, fishing, camping, Nordic skiing and snowmobiling can be enjoyed.
Location
Begins on US 95 in Downtown Sandpoint and follows US 95 north through Bonners Ferry to the Junction of US 95 and State Route 1, then proceeds north on State Route 1 to the International Border at Porthill.
Length
48.2 miles from Sandpoint to Junction of US 95/SH 1, 11 miles to the International Border at Porthill.
When to see it
Year round. Four full, distinct seasons. Activities and events available every month. Fall colors especially dramatic.
Special attractions
Lake Pend Oreille, Kootenai National Wildlife Refuge, Idaho Panhandle National Forest, McArthur Lake Wildlife Corridor, Historic Bonners Ferry & Kootenai River.
Camping (Drive to)
Privately owned campgrounds in and around Sandpoint and Bonners Ferry. USFS camping at Smith Lake, 7 sites 5 miles north of Bonners Ferry, 2 miles on County Rd 36. Meadow Creek, 22 sites, 11 miles N on Meadow Creek Rd from Hwy 2 northeast of Bonners Ferry. Robinson Lake, 10 sites 7 miles south of Eastport on Hwy. 95. Copper Creek, 16 sites 1 mile south of Eastport (Intl. Border) on Hwy 95 and Sam Owen, 80 sites on Hope Peninsula Rd., east of Sandpoint on Hwy 200.