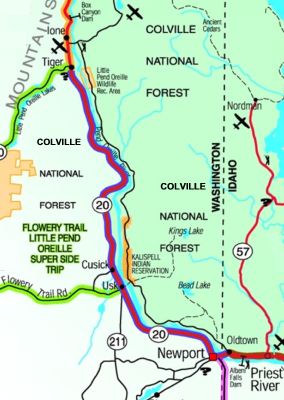 The Pend Oreille (say Ponderay) Valley Scenic Byway travels from Newport, Washington north on Hwy 20 to Tiger. The roadway follows the Pend Oreille River as in flows north to Canada and then turns west to join the Columbia River. The name Pend Oreille is said to have come from a French trapper's description of the dangling earring pendants worn by a local Indian tribe. The roadway follows beautiful river valleys and goes by the small communities of Usk and Cusick. This sparsely populated roadway offers several accesses to the river as well as recreational access for hiking and fishing into the Colville National Forest from both the west side of the roadway as well as from the LeClerc Road on the east side of the river.
Remnants of a bygone era can still be seen as evidenced by the river pilings still standing as a reminder of the log boom holding areas that supplied the Diamond Match Companies Mill at Cusick. Vast forests of western White Pine were harvested to supply this mill at the turn of the century.
Location
Begins on Hwy 20 at Newport, Washington north to Tiger, Washington
Length
50 miles, allow 1 hour of drive time.
When to see it
Year round. In early spring (March) Tundra Swans can been seen on the Pend Oreille River. Osprey and eagle nests can be spotted atop the river pilings. Fields of camas flowers bloom in late spring, giving way to the lush, green vistas throughout the valley. Striking fall colors. There is a Sno-Park for winter recreation in the Colville National Forest as well as 49 Degrees North Ski Resort nearby.
Special attractions
Pend Oreille River, Lavender Festival (July); Colville National Forest; Little Pend Oreille National Wildlife Refuge, Upper and Lower Wolf Trails, Geophysical Nordic and Mountain Bike trails, Batey-Bould ORV Area, Kings Lake Sno-Park, Nok-OSH Kol interpretive trail at Pioneer Park, David Thompson Interpretive Site, Newport Museum & Tiger Museum.
Camping (drive to)
USFS Campground Pioneer Park, 17 sites, across river into Idaho on US 2, turn north on LeClerc Rd, 2 miles. Several private campgrounds in Newport area and one near Tiger.