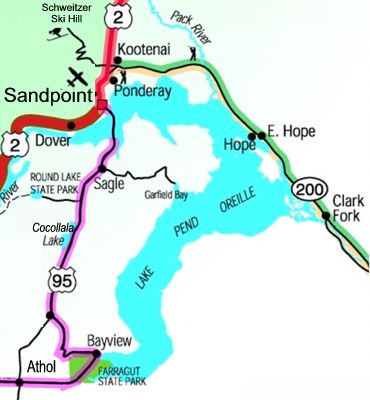 The Pend Oreille Scenic Byway offers travelers some of Idaho's most spectacular water views. Part of the International Selkirk Loop's Super Side Trip called "Pend Oreille – Kootenai River SST," this National Scenic Byway route begins at the intersection with US 95 just north of Sandpoint. Idaho 200 meanders eastward to the Montana state line across farmlands, through river deltas, and along the rocky northern shores of Lake Pend Oreille, all sculpted by the massive force of glaciers and the floodwaters of Glacial Lake Missoula. One segment of the drive follows the northern shore of Lake Pend Oreille, second largest fresh water lake west of the Mississippi.  Pullouts along the byway allow visitors to stop and enjoy breathtaking vistas of mountainous horizons framing miles of open water.
Four-season recreational opportunities begin along the shores of the lake and reach across the vast regions of the Panhandle National Forest overlooking the byway. Whether you are inclined to swim or fish, boat or golf, hunt or hike mountain trails, alpine ski or snowmobile, water ski or bird watch – each of the distinctive four seasons offers an outstanding recreational opportunity for almost every person who enjoys the outdoors.
Location
Begins at US 95 north of Sandpoint and follows Idaho 200 through the charming community of Clark Fork to the Montana State Line.
Length
33 miles. Allow 45 minutes. The complete Super Side trip is 112 miles, via Hwy 56 connecting to Hwy 2 and intersecting the main International Selkirk Loop route at Bonners Ferry. Allow 3 hours for the full SST.
When to see it
Year round. Winter scenes can be magnificent, spring and fall colors are dramatic.
Special Attractions
Lake Pend Oreille, Clark Fork River and delta, an especially nice birding area; roadside interpretive exhibits, Panhandle National Forests' seasonal trails and roads, and four seasons of recreational opportunities.
Camping (drive to)
Sam Owen Campground, 80 sites on Hope Peninsula Rd., Numerous private campgrounds also on the Hope peninsula as well as in the area.