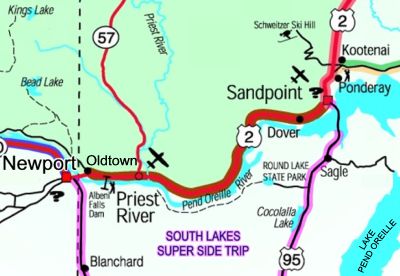 The Panhandle Historic Rivers Passage begins at the Washington state line and follows the northern shore of the Pend Oreille River through Oldtown, Priest River and ends in Sandpoint. This byway is also the southern leg of the International Selkirk Loop.
Enjoy driving along miles of soothing river scenery that reflects the pastoral beauty of surrounding forests and farms. Pull over and be entertained by varying seasonal wildlife, birds of prey and waterfowl; or stop and absorb the history of northern Idaho in three different museums along the byway. Learn how the waterway played an important role in developing the region. This history extends back to the ice age and the Great Missoula Floods. The Kalispell tribe followed this waterway to important hunting and fishing grounds in Montana. David Thompson was the first white explorer in the region, developing fur trading and searching for a watercourse to the Pacific Ocean. Early loggers used the river to transport millions of board feet of timber to waiting sawmills. Logging is still an integral part of the community of Priest River where you can see a working sawmill.
"My wife & I just returned from 'doing the Loop' the first two weeks of May and found there to be very little traffic, no problem getting lodging even without reservations. We did all of the Super Side Trips; they were all great. Got in some great hikes. We ended by staying three nights at Priest Lake, which was a perfect end to our trip. It was a great trip, and I'd recommend it to anyone."
-M. & L. Nelson, Midway, KY
Convenient access to the Pend Oreille River at four recreation areas provides opportunities to swim or boat along spacious, gently-flowing waters. Winter recreation includes snow sports on state and federal lands, ice fishing when it is cold enough, and hundreds of miles of Nordic and snowmobile trails at Priest Lake, just north of the byway on Hwy 57.
Location
Begins at the Washington state line and follows US 2 to Sandpoint.
Length
28½ miles. Allow 40 minutes.
When to see it
Year round. Eagles in the winter, osprey in the summer, waterfowl in the spring and fall. Nature's palette of vegetation colors are particularly abundant in spring and fall.
Special Attractions
Pend Oreille and Priest River; Colville National Forest (formerly Kaniksu NF); Pend Oreille Wildlife Management Area; Albeni Falls Dam Visitor Center; Historical Museum in Sandpoint; Historical Museum in Newport and Priest River's historic downtown.
Camping (drive to)
Public Lands Campgrounds at Priest Lake: Outlet 31 sites, 25 miles north of Priest River on Hwy 57, turn east at south end of lake, 1 mile; Luby Bay 52 sites, 28 miles north of Priest River on Hwy 57, turn east, 1 mile of gravel; Osprey 16 sites, 1 mile past Outlet CG. US Army Corps of Engineers CG's: Albeni Cove, 10 sites directly across the river from Albeni Falls Dam, access via Hwy 41 at Newport; Mudhole 20 sites, 1 mile east of Priest River; Riley Creek, 67 sites 9 miles east of Priest River at Laclede. Springy Point 37 sites, at the south end of the Long Bridge at Sandpoint, turn west onto Lakeshore Drive 3 miles. There are also various private camping facilities at Newport and Sandpoint. Round Lake State Park, 53 sites 9 miles south of Sandpoint off Hwy 95, 2 miles west on Dufort Rd.