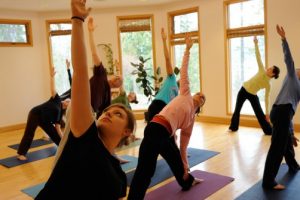 Yasodhara Ashram is a Yoga Retreat and Study Centre founded in 1963 by Swami Sivananda Radha. Today, 50 years after it began, the Ashram remains a vibrant community welcoming people of all ages and backgrounds to discover the transformative power of yoga. Stop by for a day visitor or register for one of our retreat sessions.
Day visitors are welcome year-round! Take a self-guided tour. Shop in our beautiful Giftshop. Enjoy a nutritious lunch, served daily at 12:30 pm. Please call ahead to let us know you are coming – (250) 227-9224)!
Register at Mandala House, where we are happy to answer any of your questions and give you a site map. Open every day from 8:30 a.m. to 6 p.m.
Our Giftshop features spiritual books, jewelry, cards, shawls, journals and more! Open daily.
Member Info
527 Walker's Landing Road
Kootenay Bay British Columbia
Canada
Phone: (250) 227-9224
Toll Free: (800) 661-8711
Fax: (250) 227-9494
Email this business
Visit Website