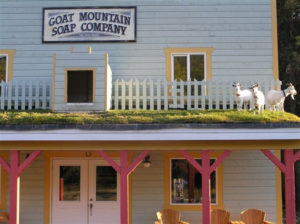 Stop in to visit our little piece of paradise in Yahk, BC.
Our beautiful little shop offers a diverse selection of soap, candles, skin, body care and a gift shop full of original work from local artisans in the Kootenays!
Our fall/winter hours are:
Wednesday – Sunday 10:00am to 5:00pm
Summer hours May long weekend (mid May) to September long weekend (Labor Day) – every day 9:00-5:00
Two Scoop Steve – best ice cream shop in the Kootenays!
May long weekend to June 30 every day 10:00am – 7:00pm
Yahk Mountain Cafe
May long weekend to September long weekend 10:00am – 3:00pm
Homemade soup and sandwiches using our homemade bread and local ingredients from the Creston Valley.