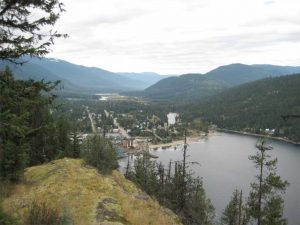 Springer Creek RV Park and Campground is run by the Village of Slocan. Come and stay with us and experience the serene beauty of the Slocan Valley mountains and lake.  Easy access directly off of Hwy 6, full hookups, spacious sites, showers, sanidump and info booth is set of a beautiful wooded setting with Springer Creek flowing nearby and enjoy the peaceful sound of waterfall.
Slocan was not always so peaceful, but historically a busy vibrant community. During the 1890s, it was a bustling, boisterous, boomtown filled with hotels, saloons, pack teams, rail cars filled with ore, and miners in pursuit of the ever elusive "motherlode."
The name "Slocan" is an Indian name that the white man tried to put to use, it means to strike or pierce on head and this was derived from the Indian practice of harpooning salmon. At one time, this area had an abundance of salmon.
The town site was staked at the lower end of Slocan Lake in 1892 following massive silver strikes nearby. The site was conveniently close to three principal ore producing areas. By the 1900, there were 12 hotels in Slocan; by 1920 there were only 3 hotels left. Slocan became a city in June 1901.