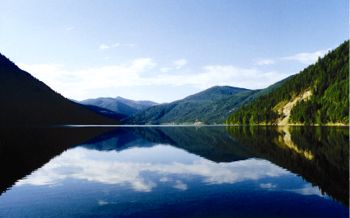 This area of Pend Oreille County, known as "The Metalines," can claim to be the birth place of the International Selkirk Loop, as it was a Sullivan Lake District Ranger from the nearby Colville National Forest who originated the idea and helped to get it started.
Hwy 31 from the International Border south is also the route of the "The North Pend Oreille Scenic Byway." Access to the Salmo-Priest Wilderness in the Selkirk Mountains on the Colville National Forest will take you to hiking trails traversing to pristine mountain lakes and ancient cedar groves delivering some of the most striking scenery Washington State has to offer.
"Sullivan Lake also has the Selkirk magic of the meeting of lake and forest." – Joan Stevens, Portland, Oregon
This beautifully rugged country, once accessible only by river or on horseback, offers today's traveler an opportunity to step back in time. Home to one of the largest diversities of big game animals found in the lower 48 states, the area also abounds with many National Historic Register buildings, such as the Historic Washington Hotel and the Cutter Theater, a nationally recognized Center for the Arts in Metaline Falls.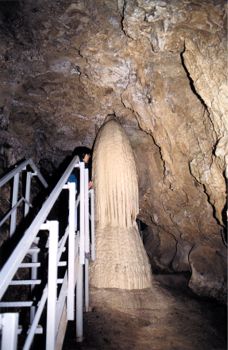 The town of Metaline Falls, which has been recognized as one of the "100 Best Small Arts Towns in America" for the past four years, is home to Affair on Mainstreet, an Arts Festival on Labor Day weekend, and Deck the Falls Winter Festival, held the first weekend in December. The City Park has a restored rail baggage car that serves as a visitor kiosk with historic photos.
Enjoy the area's history and scenery at the Mill Pond Historic Interpretive Site just north of Metaline Falls on Sullivan Lake Road. Continue on the Sullivan Lake Road for access to 3 campgrounds run by the Sullivan Lake Ranger District. Stop by the District office located at the north end of Sullivan Lake to pick up hiking and camping information. Another popular attraction in the area is a guided tour of Gardner Cave at Crawford State Park, second largest limestone cave in Washington. Overlook access is 11 miles north of Metaline Falls, turn west to Boundary Dam, or 1.2 miles south of Metaline Falls where tours of the dam are available (No tours will be offered during the 2020 season).
Even though it provided the backdrop for Kevin Costner's futuristic movie, "The Postman," Metaline Falls has successfully retained its early twentieth century mining and logging architecture and culture in its purest state. Large concrete cylinders are all that remain of the Lehigh Cement plant that provided concrete to build Grand Coulee Dam and others of the era.
Situated a few miles south of Metaline Falls and on the west side of Pend Oreille River is the small community of Metaline. There is a lovely community park, covered picnic area and boat launch here.
For more information visit the Pend Oreille River Tourism Alliance's excellent website on Pend Oreille County.