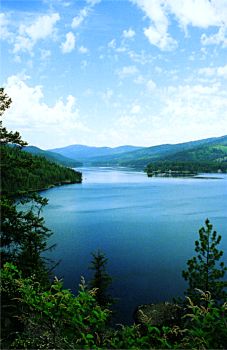 Spirit Lake is a warm and friendly thriving community. Businesses in town are family and locally owned. Spirit Lake is also one of the fine small communities situated on the International Selkirk Loop's South Lakes Super Side Trip. There are two parks in the middle of town with a large baseball field at the end of town.  The large park on Washington Street has public facilities, two baseball fields, playground equipment, picnic areas and a bandstand where free concerts are held in the summer.  The "Little Park" on Maine Street is maintained by the local garden club, a beautiful place for a tranquil afternoon picnic or to relax and read a book or just watch the world go by.  Look for the legend of Spirit Lake painted on a mural by a local artist.
The lake itself is 4½ miles long and is over a mile wide at the widest point. The surface area is 1,445 acres with 12 miles of shore. There are three public boat ramps on the lake located at Nautical Loop Road, Bronze Bay and at the end of Maine Street near the Mill Pond.  The lake is reputed to be one of the only lakes in the world with a sealed bottom – an apt location for the spirits that are said to haunt the beautiful waters of this fascinating lake.
Spirit Lake was platted in 1907 and by 1910 most of the streets, business buildings and a few houses had been built.  Real estate investors begin arriving.  Summer cottages were built along the lakeshore line and Spirit Lake became a resort town. At first it was the railroad that brought many summer visitors. Gradually rail services declined, as travel by auto became popular and regular passenger services ended in 1937.
For more information on the area visit the Spirit Lake Chamber of Commerce.