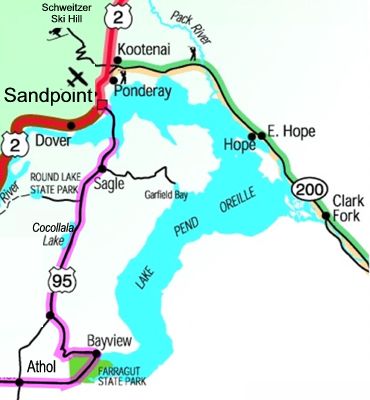 Beautiful Lake Pend Oreille is one of the Selkirk Loop's greatest treasures, offering a myriad of fun activities. The lake is 43-miles long, 6-miles wide and has depths of 1,150 feet (351 meters), making it the second largest fresh water lake west of the Mississippi and the 13th deepest lake in the world.  In fact, the US Navy has an acoustic research detachment operating out of Bayview, Idaho where a a large-scale structural model of the SSN-21 Class submarine has operated here since 1987.
Lake Pend Oreille was glacially formed during the ice age. It is also believed that the eastern side of the lake was in the path of the ancient Missoula Flood. The lake sits at the south end of the Purcell Trench[1], carved by glaciers moving south from Canada. The eastern side of the glacier is believed to have formed the dam for the Missoula flood, at the point where the Clark Fork river enters the lake between the Cabinet and Bitteroot mountains.
The area around the Lake is the traditional home of the Kalispell Indian peoples. A French fur trapper is believed to have given the lake its name. The words "Pend Oreille" are French for an ear-hanging or pendant. Ear pendants were characteristic of the Kalispell tribe. The lake is shaped much like a human ear when viewed from above or on a map.
Explorer and cartographer David Thompson was the first white man to enter and establish a trading post near present day East Hope, Idaho in 1809, named Kulyspel House.  There is a historical marker near the site.  A bicentennial event celebrating his arrival at Lake Pend Oreille took take place in Sandpoint, Idaho on June 24-27, 2009.