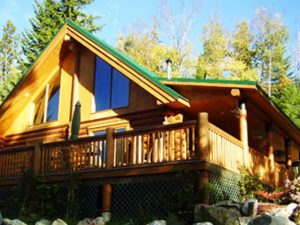 Our cabin consists of 1 bedroom with a loft and a queen size futon in the living room…sleeping 6 comfortably. Enjoy all the amenities of a complete kitchen and a 3 piece bathroom. All you need to bring is your food and beverages.
Take a leisurely 5 minute walk to the beach, or sit on the fabulous deck and take in the grand view of the mountains and glaciers that surround us. The cabin is perfect for honeymoon getaways, anniversaries, vacation rentals, family reunions or just some good old peace and quiet. There are 4 golf courses within 30 minutes, the closest being Riondel Golf Course which is only 5 minute drive.
Some activities in the area for your enjoyment are; hiking, horseback riding, fishing, kayaking and canoeing, snowmobiling and just relaxing at the beach.