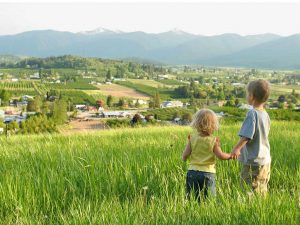 Waving fields of grains and roadside fruit stands attest to the long, lush growing season of the Creston Valley. Fruit has been grown here since the turn of the century and visitors are still pleasantly surprised to find orchards that offer an abundance of mountain-ripened delights. While cherries are now the primary crop, many other soft fruits and vegetables are also grown here, including asparagus, corn, apricots, peaches, plums, pears and strawberries among many others. The Creston Valley is second only to the Okanagan in fruit production. There are several fruit stands featuring this local produce along Highway 3 east of Creston. Make sure you stop and have a taste of the delicious and wonderful produce. Bring a friend and stock up for your preserving and canning seasons. With three exceptional wineries and counting, the Creston Valley has been dubbed Canada's next wine region. Creston celebrates its agricultural heritage starting with the Blossom Festival at the end of May, and the annual Fall Fair showcasing the local harvest at the Creston & District Community Complex.
For more in-depth history of the area visit the Stone House Museum, regarded as one of the finest small museums in BC. Authentic historic buildings and unique and fascinating artifacts can be found from Creston's past.
For some local flavour the Orchards Galore Super Side Trip is just east of Creston on Hwy 3.
For more information on the area, visit the Creston Visitor Centre located at 121 N.W. Blvd. or visit the Creston Valley Chamber of Commerce website.
Visit www.creston.ca for more information about the Town of Creston.